Bancontact Casino – Online Casinos that accept Bancontact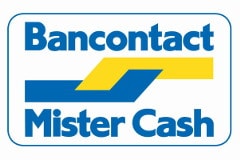 While those familiar with the online gambling industry are familiar with the most popular payment processors around the world, there are many other brands that have a huge local market presence in various markets. Due to their popularity, often established decades ago, these methods are essential to the success of casinos operating in certain countries.
A prime example of this type of market penetration is the Bancontact card, a product also known as Mister Cash. This debit card system was introduced by Belgian banks from 1979 and eventually saw the two competing systems (Bancontact and Mister Cash) combine into a single network that serves all of Belgium. Since 2006, the system has also enabled online payments similar to those made with Visa and MasterCard branded cards worldwide.
Today, the service is hugely popular with land-based and online merchants in Belgium, where over 80% of all internet merchants are said to accept the card. It also has reach in some neighboring countries: in particular, users could see their cards accepted in a reasonably high number of stores in the Netherlands (and, to a lesser extent, the UK). Online, the cards were used in around 27 million different transactions in 2015, making it a really big player in the world of payment processing.
How to deposit with this method
To start, you must have a bank account in a Belgian bank that participates in the Bancontact network. You will also need to register at a casino that accepts this as a deposit method. This shouldn't be a problem, as there are plenty of reputable casinos in Belgium, and most of them accept this card.
Once you're ready to complete your transaction, you'll want to take a look at the list of options in the cashier of the gaming site you're playing on. You should see Bancontact (or Mister Cash) as a specific option that can be selected. Once chosen, you will need to enter your name, card number, expiration date and verification code, as well as the amount you wish to deposit.
This is where the process diverges from using, for example, a Visa or MasterCard. Rather than immediately processing your payment, you will instead be redirected to your bank's online banking system. There you will need to confirm that you want to complete the funds transfer, just as you would if you were paying your bills over the internet.
Once confirmed, you will be returned to the casino. Assuming there are no issues, the money should be transferred to your account immediately, allowing you to start playing within moments.
Best Casino Sites Accepting Bancontact Mister Cash
Get 200% up to $5000 in bonuses
Get 280% up to $14,000 Welcome package
Deposit $50, get $250 FREE
Get up for $6000 welcome bonus

Get up for $7500 Welcome package
Advantages
For the most part, Bancontact shares the same benefits you would find with any major credit or debit card. The fact that it is so widely used in Belgium makes it an easy way for almost any player in the country to get into online gambling. It also shares the speed and ease of use seen with other similar cards.
To be fair, it's not as convenient as using a Visa or MasterCard, as there's an extra verification step involved. But it adds very little time or complexity to the process, while adding a lot of extra security against identity theft or fraud. Since you'll need to be able to log into your bank account for these transfers to work, even someone who knows your card information will find it difficult, if not impossible, to spend your money. We also like that it's a debit system, which means you can't go into debt using it.
FAQs
Can this method be used in other countries?
Surprisingly, Bancontact has a reasonable level of coverage outside of Belgium, and this can extend to some foreign gaming sites as well. A significant portion of transactions using these cards take place in the Netherlands, and you will also see occasional acceptance in the UK. However, it is not a product that has global reach.
Can I treat this like a credit/debit card?
As this is a hybrid debit system that requires verification of your bank account, you can only use this card where it is specifically supported. This means that if you find "credit card" or something similar as an option on a banking screen, you will not be able to use your Mister Cash card through this method.
What are some alternative options?
Of course, other credit and debit cards can also be used very similarly to this option. If this is not possible, other bank transfer options may also be available to you, such as bank transfers. Finally, you can try linking your current account to an electronic wallet like Skrill or Neteller.