Skip to "Chopped: Casino Royale" on Tuesday night to see Seattle chef Kaleena Bliss in action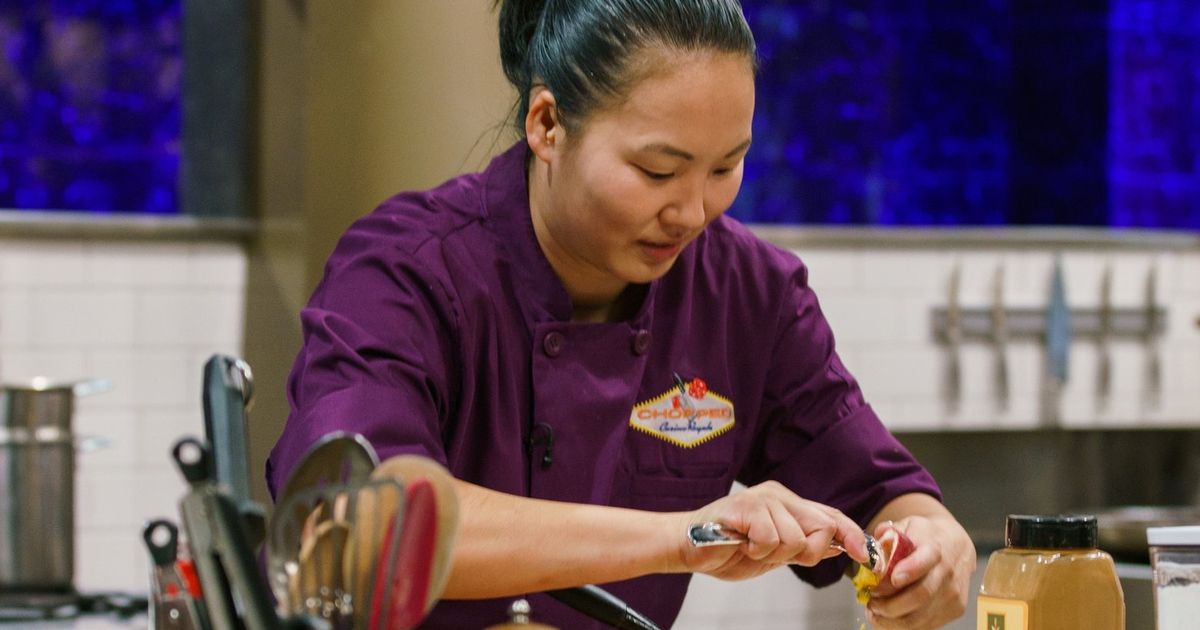 Even the prospect of cooking with a rattlesnake wasn't enough to inspire Seattle chef Kaleena Bliss to bet on a more familiar ingredient in the "Casino Royale" cooking tournament on Food Network's "Chopped."
In the first episode aired in early January, contestants had the option of rolling the dice: an even number gave them a more useful ingredient; an odd number could be something worse.
"At least they gave [the rattlesnake] for us in a box and we didn't have to make it," Bliss, executive chef of Conversation at Seattle's Thompson Hotel, said in an interview after her first episode of "Chopped" aired.
Of the three dishes prepared by Bliss in this episode, her orecchiette pasta, consisting of smoked rattlesnake and purple spinach pesto with a pickle-flavored potato chip crumb, proved her most successful creation. .
"The judges had nothing bad to say about it and I felt really confident after that," Bliss said.
She went on to win that episode and returns to face the winners of three more qualifying episodes in the tournament finals, which airs at 9 p.m. on Tuesday, February 1. The winner will win a minimum jackpot of $25,000.
Growing up in Vancouver, Washington, Bliss often watched PBS and Food Network cooking shows, especially "Iron Chef," with her parents.
"I don't know why, but I always knew I was going to be a chef," she said. "I remember in high school everyone around me was like, 'Why am I going to college?' And I'm, like, 'Oh, I'm just going to culinary school.' "
Bliss earned a bachelor's degree from the Culinary Institute of America in Hyde Park, New York, majoring in Culinary Arts Management, and returned to the Pacific Northwest to work in Portland before heading to the Puget Sound area. , including a passage as a submarine. chef at the now closed Four Swallows on Bainbridge Island.
Bliss, 34, joined the Conversation in the Thompson kitchen in November 2019.
"I feel like my cooking is really based on my inspirations from growing up in the Northwest," she said. "We are so lucky to have the forest, the mountains and the sound nearby. We have an arsenal of ingredients to choose from. … When I was younger I was really into traditional French cooking, cooking everything with butter, but as I get older I like to find ways to incorporate interesting flavors without it being super heavy.
Bliss posts images of her culinary creations on her Instagram page and, as is often the case these days with reality TV contests, that's how a "Chopped" rep found and recruited Bliss. in the program.
"When I first heard it I was like, 'Oh, this is a scam', but I was interested because I had seen the show and it's a show that's really respected in our industry," says Bliss. "It's actually based on your talent and not just entertaining yourself. [for viewers watching the show]."
Bliss says her Thompson bosses were supportive even though the "Chopped" opportunity came just as the hotel was preparing to reopen Conversation after a 19-month pandemic shutdown. In October 2021, "Chopped" took Bliss to Knoxville, Tennessee for his title shot.
She said the taping of her first episode happened during a 16-hour day.
"If I look a little crazy doing the interview [segments]it's because it was all done at the end of the day," she said.
In this first episode of "Chopped," Bliss talks about a bit of anxiety, which she says likely kept her from competing in TV cooking contests in her 20s.
"Nowadays there are [are] a lot of people are talking about it, especially people in our industry and especially chefs," Bliss says. "I don't feel like it's so quiet anymore. As I got older, and especially going through the COVID pandemic, I started talking about it with my doctors. …I think it gave me the confidence to jump the no and do something like this.
Even so, "Chopped" turned out to be the most nerve-wracking and stressful dining experience of Bliss' life.
"It was a great experience," she said, "but did I feel sick all the time? Yes I did."
Of course, Bliss, who will create a meal as part of the Field to Table meal series at Lumen Field on Feb. 5, has sworn to secrecy about how she fared in the "Casino Royale" finale. ", which she filmed a few days later. his first episode "Chopped".
"What I will say is winning the first episode gave me confidence that I could do it," she said, "but I still had the same amount of nerves and stress filming the second."